Victoria Kuohung MD JD
Victoria Kuohung is a Quincy dermatologist who was born in Rochester, New York, into a family of physicians.  She was raised in metro Chicago where she saw her father, an obstetrician-gynecologist, work endless hours to help his patients have healthy pregnancies.  An old-fashioned physician, her father took care of entire families, from grandmothers, to mothers, to daughters and their babies. Dr. Kuohung now brings this commitment to caring for entire extended families to her own practice of dermatology. 
She loves getting to know parents and their children, enjoys watching babies grow up to be toddlers, and has a knack for remembering all the details about what's going on in your life.  An aficionado of diverse cultures, Dr. Kuohung has worked abroad in Uganda and Bolivia, and for underserved populations in the United States such as the Navajo and Alaska's Unalaska tribe.  She speaks fluent Mandarin and decent Spanish, and is committed to addressing the diverse needs of people with a variety of skin types.  She believes in giving back to the community, and holds free skin cancer screenings throughout the South Shore.
While she's not working, Dr. Kuohung is eating at divey restaurants, negotiating truces between her four boys, and helping her husband find where he parked the car — again. Achieving healthy skin doesn't happen overnight, but Dr. Kuohung will be there every step of the way, for the long haul, to help you attain your goals.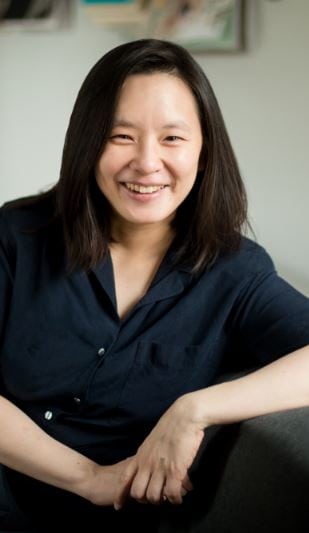 Education
BA:  University of Michigan, Ann Arbor (1992)
JD:  Harvard Law School (1996)
MD: Yale Medical School (2007)
Medical Training
Internship: Beth Israel Deaconess Medical Center (Boston)
Residency: Boston University/Tufts University Combined Program in Dermatology
Licenses
MD: Massachusetts, Rhode Island
State Bar of California (inactive)
Eva Volf MD
Dr. Eva Volf works on occasion as the clinic's covering dermatologist when Dr. Kuohung is out of the clinic.  She grew up in Winthrop, Massachusetts as the child of first generation immigrants from the Czech Republic. Growing up, her parents valued hard work and education. As a child, Eva loved to explore nature and was often harboring and nursing injured animals back to health.
Dr. Volf went to Northeastern University where she majored in biochemistry with a focus on the impact of the environment on human genomics. She spent two years working at Dana Farber Cancer Institute aiding in the discovery of DNA nanotechnology as a therapeutic for cancer.
Her interest in health and science combined with a desire for helping people inspired Dr. Volf to pursue a medical degree at Tufts University School of Medicine. Early exposure to dermatology sparked her interest in this career. She saw a real opportunity to improve patients' quality of life by addressing their skin disease and its psychosocial implications. Dr. Volf completed her residency training in dermatology in Boston at Tufts Medical Center during which time she published in peer reviewed journals on topics in psoriasis and eczema and presented her research at national conferences.
In her spare time, Dr. Volf loves to scuba dive and has traveled all across the globe to protected wildlife sites to dive with sharks, dolphins, rays and reef dwelling creatures. She also likes capturing the beauty of the underwater world with photography. She enjoys practicing mindfulness and meditation and is an avid free diver. She, her husband and dog Tanooki still reside in Winthrop today where they enjoy walks on the beach.